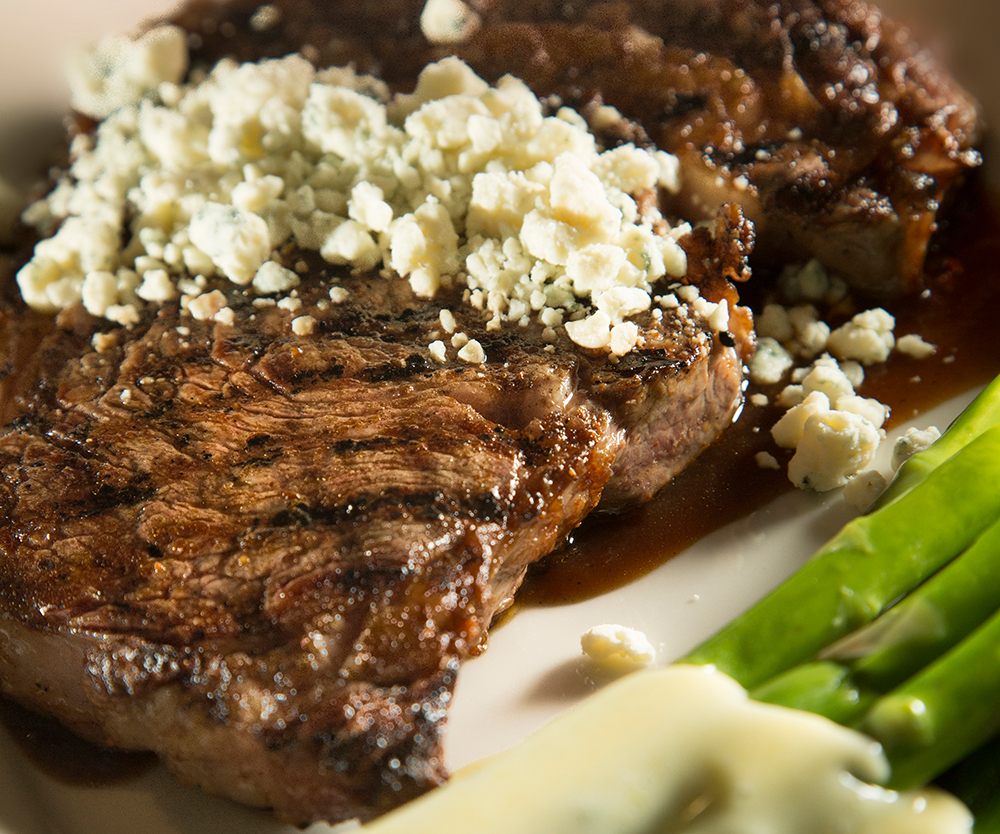 Entrées are served with side salad or substitute table-side Caesar for $8 each (minimum of 2)
 Chef's Feature – Great Lakes Walleye | (Market Price)
Freshly caught, Ohio favorite. Specially prepared by our chefs using seasonal ingredients.
Boathouse Fish and Chips | 18
Beer battered cod fillets, caper-dill tartar sauce. Served with Boathouse fries and coleslaw. (No salad.)
Char-broiled Norwegian Salmon Fillet | 28 | GF
Topped with orange-maple butter. Served with sides of Meyer Lemon Risotto, asparagus and Hollandaise.
Pan Seared Jumbo Sea Scallops | 31 | GF
With sautéed greens, bacon marmalade and ginger-honey glaze. Choice of side.
Chicken Parmesan | 25
Pecorino crusted chicken, linguine, homemade marinara, parmesan cream sauce.
Chicken Oscar | 27
Lightly seasoned chicken breast topped with crab, asparagus and hollandaise, served over Meyer Lemon Risotto.
Admirals Platter | 32
Hand breaded shrimp, seared sea scallops, beer battered cod, crab croquettes, Boathouse fries and coleslaw. (No salad.)
North Atlantic Lobster Tails | (Market Price) Two steamed tails, served with drawn butter and choice of side.
Shrimp Scampi | 27
White wine, lemon, garlic, tomato, scallions and butter. Served over linguine.
Pasta Primavera | 19 | V
Linguine, fresh seasonal vegetables in a white wine garlic sauce. Add grilled chicken 25.
Mushroom Ravioli | 26 | V
Porcini, Truffle and Italian cheese ravioli topped with parmesan crème. Drizzled with black truffle oil.
Charbroiled Flank Steak* | 27 | GF
"Smith family original". Marinated in our special recipe, sliced and paired with Meyer Lemon Risotto and asparagus.
Filet Mignon* | 34 | GF
Hand carved, center-cut, peppercorn cream sauce, dauphinoise potatoes and vegetable du jour.
Boathouse Strip* | 32 | GF
Parmesan cream sauce, baked potato, butter, sour cream and vegetable du jour.
"Oscar" your steaks with crab, aspargus and hollandaise. | 8
---
V – Vegetarian  GF – Gluten Free
*Consuming raw or undercooked meat, eggs, or shellfish may increase your risk of foodborne illness.