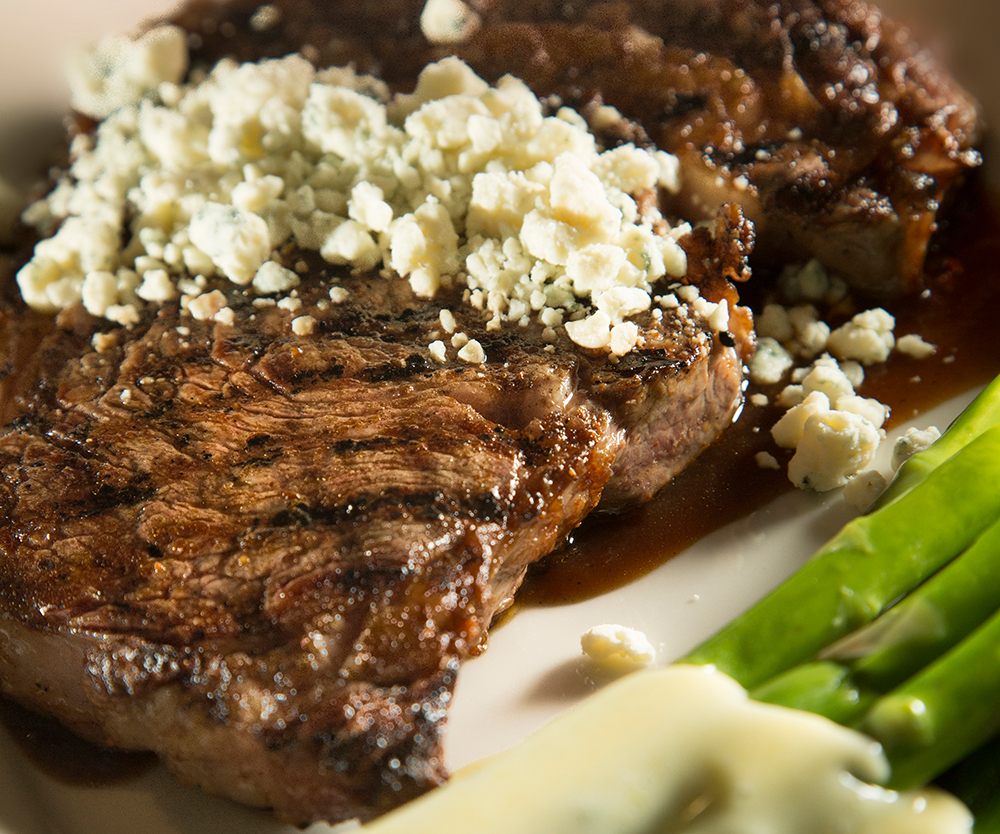 Entrées are served with side salad or substitute table-side Caesar for $8 each (minimum of 2)
 Chef's Feature – Great Lakes Walleye | (Market Price)
Freshly caught, Ohio favorite. Specially prepared by our chefs using seasonal ingredients.
Boathouse Fish and Chips | 18
Beer battered cod fillets, caper-dill tartar sauce. Served with Boathouse fries and coleslaw. (No salad.)
Char-broiled Salmon Fillet | 30 | GF
Topped with orange-maple butter. Served with sides of Meyer Lemon Risotto, asparagus and Hollandaise.
Lobster Tails (Market Price)
Two steamed North Atlantic tails, drawn butter, Meyer lemon risotto, vegetable du jour.
Pan Seared Jumbo Sea Scallops | 33 | GF
With sautéed greens, bacon marmalade and ginger-honey glaze. Choice of side.
Maryland Crab Cakes | 27
Two jumbo cakes, cayenne-dill remoulade. Meyer lemon risotto, vegetable du jour (cakes only 16)
Chicken Parmesan | 27
Pecorino crusted chicken, linguine, homemade marinara, parmesan cream sauce.
Chicken Oscar | 29
Lightly seasoned chicken breast topped with crab, asparagus and hollandaise, served over Meyer Lemon Risotto.
Admirals Platter | 36
Hand breaded shrimp, seared sea scallops, beer battered cod, crab croquettes, Boathouse fries and coleslaw. (No salad.)
North Atlantic Lobster Tails | (Market Price) Two steamed tails, served with drawn butter and choice of side.
Pasta Primavera | 19 | V
Linguine, fresh seasonal vegetables in a white wine garlic sauce. Add grilled chicken 25.
Mushroom Ravioli | 28 | V
Porcini, Truffle and Italian cheese ravioli topped with parmesan crème. Drizzled with black truffle oil.
Pork Chop* | 28 | GF
12 oz., bone-in, pineapple cherry chutney, Meyer lemon risotto, vegetable du jour.
Filet Mignon* | 36 | GF
Hand carved, center-cut, peppercorn cream sauce, dauphinoise potatoes and vegetable du jour.
Boathouse Strip* | 34 | GF
Parmesan cream sauce, baked potato, butter, sour cream and vegetable du jour.
"Oscar" your steaks with crab, aspargus and hollandaise. | 8
---
First Class Upgrades!
Bacon Marmalade | 2
Mushrooms | 3
Onions | 2
Hollandaise | 2
Blackened Seasoning | 2
Bleu Cheese Crumbles | 2
Lobster Tail | (Market)

Oscar Style | 12
Crab meat, asparagus, hollandaise.
---
V – Vegetarian  GF – Gluten Free
*Consuming raw or undercooked meat, eggs, or shellfish may increase your risk of foodborne illness.