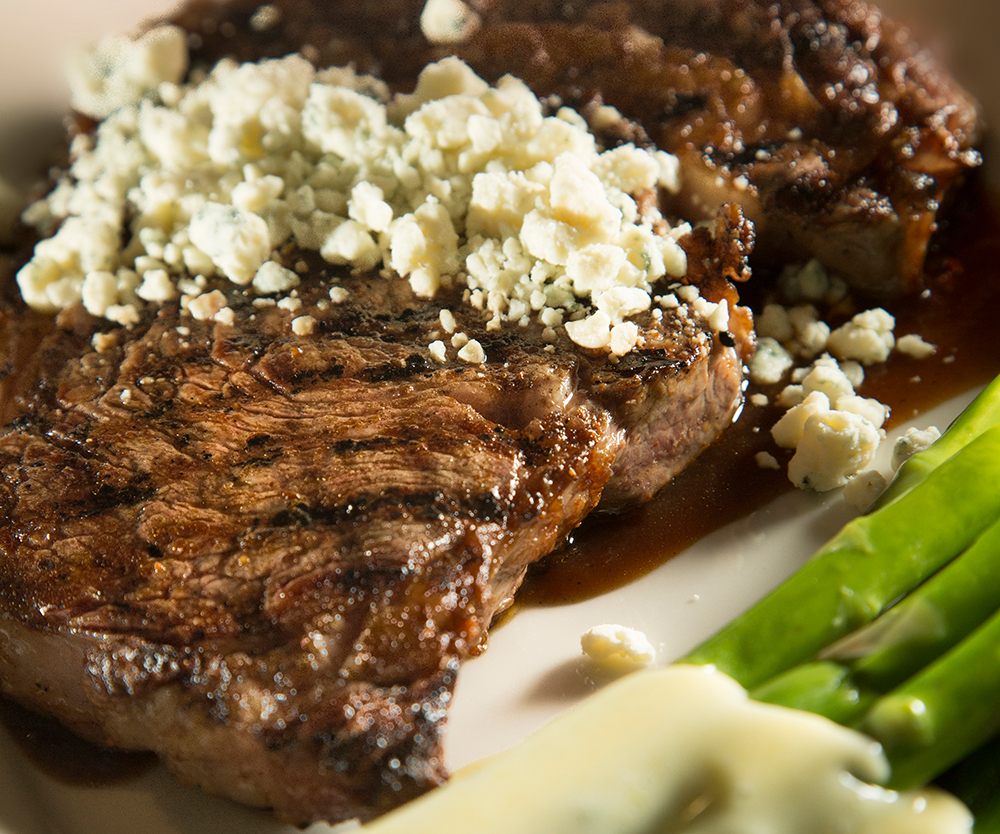 Entrées served with small Boathouse salad and choice of side.
Chef's Feature – Great Lakes Walleye (Market Price)
Ask your server about this week's unique preparation of our fresh caught Ohio favorite. Served with a Boathouse salad, bread and butter (the Chef prefers no substitutions).
BOATHOUSE FISH AND CHIPS   18
Beer battered cod fillets served with fries, caper-dill tartar sauce and coleslaw.
CHAR-BROILED SALMON FILLET*   27 GF
Fresh Norwegian salmon finished with orange-maple butter. Served with a side of asparagus and Hollandaise sauce.
JUMBO SEA SCALLOPS*   29 GF
Fresh diver scallops with sautéed greens, bacon marmalade and ginger-honey glaze. Served with choice of side.
CHICKEN PARMESAN   24
Peccorino crusted chicken, homemade marinara, linguine noodles & parmesan cream sauce.
CHICKEN OSCAR  26
Lightly seasoned chicken breast topped with crab, asparagus, bearnaise, served over rosemary risotto.
LOBSTER TAILS (Market Price)
Two steamed cold water North Atlantic tails served with drawn butter. Served with choice of side.
  ADMIRALS PLATTER   29
Enjoy an assortment of hand-breaded shrimp, sea scallops, and beer battered cod. Served with crab croquettes, Boathouse fries and coleslaw.
SHRIMP SCAMPI   26
Sautéed in butter, white wine, garlic, lemon, tomato, and scallion, served over linguine.
PASTA PRIMEVARA  18 V
Pasta and fresh seasonal vegetables tossed with extra virgin olive oil, butter, herbs,
white wine and garlic (Served with salad only)      Add grilled chicken   22
MUSHROOM RAVIOLI   25 V
Porcini, Truffle, and Italian cheese ravioli, topped with parmesan crème – garnished
with parsley, freshly grated parmesan cheese, and drizzled with a black truffle oil. (Served w/salad only)
CHARBROILED FLANK STEAK   26  GF
"Smith family original"– delicately marinated special recipe, sliced and paired with rosemary risotto
(Served with salad only)
FILET MIGNON*   34
With red wine reduction 7oz. Served with with Dauphinoise potatoes and the veg du jour.
"Oscar" your steak with crab, asparagus, and bearnaise
BOATHOUSE STRIP*   29
Our Certified Black Angus signature steak is artfully prepared with parmesan cream sauce. Served with a baked potato, butter and sour cream and veg du jour.
Boathouse Signature Dishes       An 20% gratuity will be added to parties of six or more.
---
V – Vegetarian   GF – Gluten Free