A Troy, Ohio Family Restaurant
An exciting new addition to Troy's dining community, Smiths' Boathouse Restaurant, perched upon the Great Miami River, focuses on offering superior service with a wide selection of high quality seafood and steaks, as well as other unique menu items presented seasonally. All items are moderately priced and served in a cozy, family-friendly atmosphere.
"I look forward to the addition of Smiths' Boathouse Restaurant to the many renovations and amenities that will be offered in Treasure Island Park. It is my hope that the Smiths' Boathouse Restaurant will become a popular destination for our region."
— Mayor Michael Beamish
---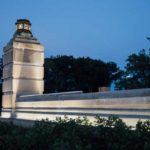 Reservations?
We look forward to welcoming you to our new restaurant! For more information or to make a reservation, please contact us by telephone at (937) 335-3837. 
This week's Boathouse Feature - 4/23 thru 4/27
This week's "Fresh Catch" special is here!
Parmesan and Basil Crusted Walleye, over a light, citrus basmati rice, garnished with a small toasted almond salad and a balsamic reduction. Served with a small Boathouse salad.